The Three - Day seminar under direction of father James Manjackal
(from 9th to 11th July 2004 )
Please let us know if you wish to receive the details on seminar 2005 between 11th and 17th July, 2005 when available. The details will receive all subscribers to the Help from Heaven Kurescek Newsletter so just click here and subscribe to the Kurescek "The Help From Heaven". It's just that simple :-).
To download the audio record of a healing prayer from the seminar on Friday , 9.7.2004 (MP3 - 9732KB, 21min 10sec please) just click here. Thank you.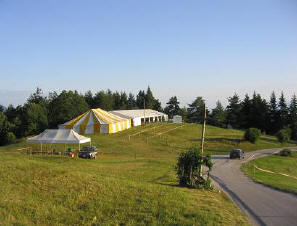 THE LOCATION

The seminar was held in a big marquee offering protection from the sun and the rain respectively, situated on a large field right above the Pilgrimage House on Kurescek.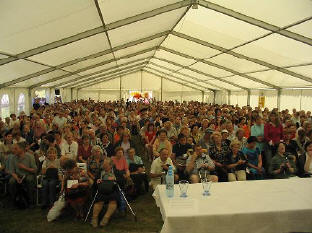 Schedule of the seminar was as it follows:
Friday, 9th July, 2004:

15:45 - 16:15 Prayer and adoration
16:15 - 18:00 The first speech of father James
18.00 - 18.30 Break
18:30 Holy mass and afterwards healing prayer
(conclusion at approx. 21:00)
Saturday, 10th July, 2004:

08:30 - 09:00 Prayer and adoration
09:00 - 10:30 Morning prayer of father James and his second speech
10.30 - 11.00 Break
11:00 - 12:00 The third speech of father James
12:00 - 15:45 Lunch break
15:45 - 16:15 Prayer and adoration
16:15 ­- 18:00 The fourth speech of father James
18:00 - 18:30 Break
18:30 Holy mass and afterwards healing prayer (conclusion at approx. 21:00)


Sunday, 11th July, 2004:

08:30 – 09:00 Prayer and adoration
09:00 – 10:30 Morning prayer of father James Manjackal and his fifth speech
10:30 – 11:00 Break
11:00 – 12:00 Sixth speech of father James Manjackal
12:00 – 15:00 Lunch break
15:00 – 15:45 Prayer and adoration
16:00 Regular Sunday holy mass and afterwards healing prayer (conclusion at approx. 19:00)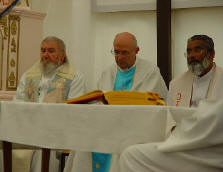 PRACTICAL INSTRUCTION FOR THE SEMINAR

- Primarily the seminar is the work of the Holy Spirit therefore you are asked to support it by your prayer and by sacrificing your sufferings.

- Access to Kurescek: you turn from Ljubljana South bypass in the direction Ig and immediately after that you come across a road sign Kurescek. It takes half an hour to come from Ljubljana South bypass to Kurescek by car.

- Due to a limited number of parking places on Kurescek, all the participants of the seminar are warmly recommended to use the bus transport facilities. Reservations can be made with Luka-Tour, tel. no. 04 - 592 26 40 (after 7 p.m.).
The price of a return ticket from Ljubljana likewise from Kranj to Kurescek is 1200 SIT per person.

Departure from Kranj
on Friday, 9th July: Hotel Creina at 2 p.m., on Saturday and Sunday at 7 a.m.
Departure from Ljubljana
on Friday, 9th July: Police Station at the main Bus Station at 2:30 p.m., on Saturday and Sunday at 7:30 a.m.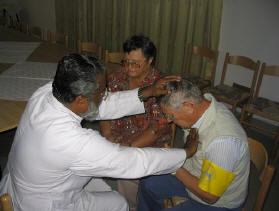 The individual cancer - healing prayer
The participants of the seminar are asked to bring folding chairs with just in case there are not enough seats on the benches in the marquee

There are some accommodation facilities in the Pilgrimage House on Kurescek. However, a preliminary booking is requested at one of the addresses cited below.

The area spreading from the marquee to the church is to be deemed a place of peace, concentration and stillness.

Nutrition: in case you do not bring refreshments and beverages in your pilgrimage bags, you can buy them at a reasonable price in the Pilgrimage House on Kurescek.

The Holy of holies will be exposed for a silent prayer during all day in the Sanctuary of Mary the Queen of Peace.

There will be a number of confessors available for confession or spiritual conversation - especially during the day. During the celebrations of the holy mass less priests will be available, because they will participate at the worship. Towards all the individuals waiting for confession and to the rest of present at the seminar is directed the asking not to disturb confessions with their closeness.

Those who are prepared for receiving the Holy Communion are invited to receive it during the Holy mass, while all others are invited to receive the priests´ blessing - they will indicate their intention by standing with their arms crossed over the chest.

Guards will offer help to participants of the seminar; careful consideration of their directives will contribute to a good athmosphere of the seminar.

Selected religious books will be on sale.

An ambulance with rescue team will be on the spot to render its medical assistance.

It is strongly recommended to all drivers not to park their vehicles on the way from the church down the valley in order not to hinder intervention route for ambulance, fire engine and police car.

It is useful to bring a head-covering with you for protection against sun.

Take care of the beauties of the nature and do not throw rubbish around; please, use the garbage baskets/bins.

You will be constantly well-informed of the course of events during the seminar via loudspeakers.

There is no entrance fee in order as much as people can attend the seminar. For the purpose of covering expenses of the seminar a plate will be set out. For that and for other generous contributions with this purpose we say sincere "God bless you" in advance.

Those who prepare group - attendance at the seminar are asked to announce beforehand to one of addresses below (the day and the number of participants).

Agency Laudata ( http://www.laudato.hr ) organizes the visit of the seminar for pilgrims from Croatia.



Addresses:

E-mail: ckm@kurescek.org
Telephone: +386 31 810 090
Mailing address: Stanko Maršič
Cesta Dolomitskega odreda 86 c
1000 Ljubljana
Slovenija

FATHER JAMES MANJACKAL (on the photo below at the left-handside by the Slovenian bishop Mr. Andrej Glavan)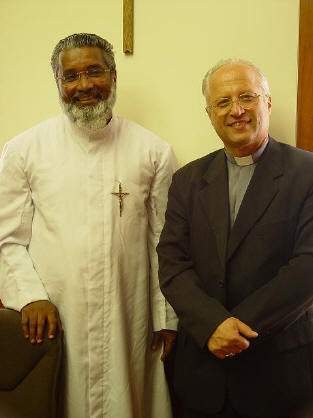 is a catholic priest from India. He belongs to Missionary Order of St. Francis of Assisi. He was born in 1946 in Kerali, South India. He was ordained on 23rd April, 1973, in the Church of Holy Mary in Kanirappali, India.

He took an active part in a mission in Bobili and in Philip Nagar. Later on he specialized in psychology and become a professor in Roman Catholic seminary in Kerali.

He became a charismatic preacher in the year 1975.
Since then he has led more than a thousand retreats and seminars, at which lot of healings happened.
Seminars that bore many fruits - physical and spiritual healings – were also led by him in Medjugorje, Bosnia and Herzegovina, in Croatia and in Ljubljana, Slovenia, in the church of Saint Joseph, organized by Renewal in the Holy Spirit in February 2003.

Father James can talk for hours without being tired, and has special gift of cognition. When he prays for the sick, he closes his eyes and sees clearly (like on the screen) names of the sick that are in the process of the healing, sometimes he sees a part of the body that is being healed by the Lord.

In the service of evangelization he visited all states in India and many countries around the world. He established about 89 charismatic centers including the well-known center in Athirampuzha in India.
He is the author of some books and many articles; he also writes poems with catholic contents. He lives in Bangalore and continues with his service of announcement of the Word. He leads retreats and seminars, biblical schools and schools of evangelization.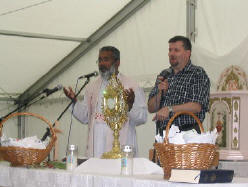 The book "27 charismatic prayers" by father James will be published before the seminar on Kurešček. He wrote: »To all who will read this booklet about prayer, I promise I will particularly remember them in my prayers and at each day's celebration of the holy mass. I always pray for all my friends and benefactors, for those who wish me all the good and for all who took part in my seminars and prayer meetings in many places around the world. «

Father James was for the first time in Slovenia on Sunday, February 3, 2002, when he and father Šmaverski made a pilgrimage to the Queen of Peace to Kurešček. He entrusted to father Šmaverski: »Kurešček is a merciful place where I would like to have a seminar. I feel and I believe it would be very blessed. The blessing that will come on the participants of the seminar will be taken to their surroundings. «

(To find more about father please click here - a new window will open)


JESUS MAKES/SETS FREE FOR LIFE


Doctors, medicaments and hospitals are here to heal physical and mental diseases. And we also need medicaments when our spirit is sick – that is when we are angry, jealous, lazy, vain, arrogant, when we despise others, and likewise.

Jesus came to liberate and to heal us. When He healed physical and mental diseases He did it out of His compassion. It was a visible sign that God's kingdom came. But each time He told people not to talk about it. But he reacted on the contrary when spiritual healing would take place, e.g. when He exorcised, He said: » ­­Go back home and tell what God did for you! « (Lk 8, 39).

If He had only healed physical and mental diseases, there would have remained a sin and evil in the people, and Jesus would not have saved people.

Jesus did not come to repair the world, but to create a new one. By His Resurrection the new world has been created on this world already. This world will disintegrate – but then a new sky and a new earth will come. With His Resurrection a new creation began. Holy Spirit works in us.

All sufferings and all evil originate from the sin. It is normal that after we set free of evil, our body and our mind will become healthy. The cause of all diseases lay in the sphere of spirit. Ever since we opposed to God, since Adam and Eve rose against God, we have been separated from Him. The life is a river containing days and time. This river separated from its own spring, it does not flow any more, and it has dried up.

And our life is the same.. A human being who is not a friend of God, does not live any more, he/she only vegetates; only his/her body is operating.

A spirit is dead, but yet, the death of the spirit is more dangerous then the death of the body. Jesus has came to defeat the death of the spirit, and to return the life to us.


(Tomislav Ivančić, Molitva koja liječi, Zagreb 1995, p. 9-10)