A 3-day seminar under direction of father James Manjackal on Kurescek at Mary the Queen of Peace
was held from 15th to 17th July, 2005
(Please, put me on the list and let me know at least a month before the next seminar at Kurescek under direction of Father James Manjackal)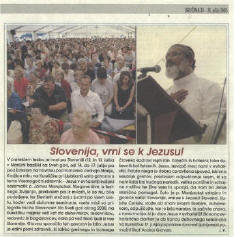 A charismatic priest from India, Father James Manjackal held a retreat under motto "Jesus in Eucharist- All Mighty Healer ".
Thousands of Slovenians were attracted to his powerful and vivid speeches, his charismas and his long experience of conducting retreats all over the world of whom about 100 were priests, nuns and seminaries.
The main message of the retreat was that Jesus is the only healer of sinful and sick mankind, that He heals both physical and spiritual sicknesses. Jesus is always with us in Eucharist.
We can reach Him by having good confession, sincere repentance for our sins, forgiveness to all who did something wrong to us, by prayer, faith and confidence that Jesus is really going to help us.
Fr .James Manjackal fervently called Slovenians to go back to Jesus, to love the Church, to support bishops and priests, to forgive all and start new lives powered by Eucharistic Jesus.
At the end of the seminar, in the afternoon of July, 17. the Holy Mass was celebrated by bishop of Ljubljana Msgr. Andrej Gavan.