How to come to the seminar at Kurescek Friday 15th - Sunday 17th July 2005 - under direction of father James Manjackal?
From Ljubljana (the capitol city of Slovenia) on the western bypass see the Ig direction (Ig a small settlement right under Kurescek).
The Ig settlement is around 10 km from Ljubljana towards the South. When you arrive Ig just follow the Kurešček direction (on the traffic board). Than it takes only 30 minutes by car the Kurescek hill from the Ljubljana bypass to arrive.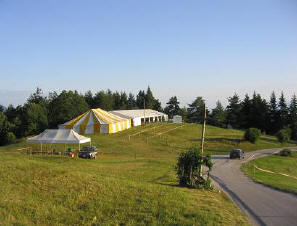 The seminar will be held under the tent just like the year before (2004) above the Pilgrim public house.
Please let the area between the tent and the Church (the Church is about 100 m far right on the top of the Kurescek hill) stay a place of peace, concentration and silence.
– Due to the lack of parking space we highly recommend you to come by bus.
– Food: You can bring the food along or order it at a fair price on Kurescek.
– Where to stay and sleep in Ljubljana ?
Affordable staying
Comfortable staying
– There will be also an emergency ambulance car at the attend.
– Wearing a sun protection headgear (a hat) is recommended although the seminar will be held under the tent.
Schedule:
Friday, 15. 7. 2005 – Kurešček
15.45–16.15 Praying and adoration
16.15–18.00 Father James 1st speech
18.00–18.30 Break
18.30 Holy Mass and a healing prayer afterwards (will end at cca. 21:00)

Saturday, 16. 7. 2005 – Kurešček
8.30–9.00 Praying and adoration
9.00–10.30 A morning prayer by Father James followed by his 2nd speech
10.30–11.00 Break
11.00–12.00 3rd Speech by Father James
12.00–15.45 Launch break
15.45–16.15 Praying and adoration
16.15–18.00 Father James 4th speech
18.00–18.30 Break
18.30 Holy Mass followed by a healing prayer afterwards (will end at cca. 21:00)

Sunday, 17. 7. 2005 – Kurešček
8.30–9.00 Praying and adoration
9.00–10.30 A morning prayer by Father James followed by his 5nd speech
10.30–11.00 Break
11.00–12.30 Father James 6th speech
12.30–14.00 Launch Break
14.00–14.45 Praying and adoration
16.00 Sunday mass followed by a healing prayer afterwards (will end at cca. 18:00)
Please click here for Kurescek Main Site
Please click here for James Manjackal Official Site