"This Will Be A Place Of Graces, A Place Of Healing From Diseases And Wounds Of The Soul "
" Whoever Takes Refuge With Faith in my Heart and in the Heart of my Son at this Place Will be Healed and Share in the Peace that Only Heaven can give "
(February 10, 1990)


" France Spelic (Father Smaverski), the visionary (Our Lady calls him Smaverski), started to receive messages from Mary, in the year of 1989. On December 9, 1989, during his visit to Medjugorje, he was instructed to renew prayer on a forgotten and abandoned place. In conversation with the priest, Joze Razinger, he learned that Kurescek could be the place.
On January 29, 1990, the visionary received another message from Mary:
Go to Kurescek. Stay faithful.
I am the Queen of Peace."

There was no more doubt about the place. The church was quickly renewed and on August 1992, it was blessed by the bishop Alojz Sustar from Ljubljana.
" All the Mary's messages that she did not want to become publicly known at once are written in my diary. I will make them public verbally and in written form when the time comes. If God for some time gives me the necessary health, I will try to edit all messages into a book form, or somebody else will do it using my diary, which I will give to a very trust worthy person.
What is written in parentheses (), I added to clarify the meaning of the text.
Everything that Mary told me on December 8, 1999 for immediate announcement, she took exclusively from messages already published, with this she wanted to achieve that the previous messages do not remain on our shelves or are even thrown away.
She reminded us of the most important points so that we shall fulfill the Gospel.
As a priest I am presently assigned to the Church in Zalog pri Cerkljah na Gorenjskem.
I was meeting with the Queen of Peace there on every Saturday.
Urgent Message From the Queen Of Peace on
April 17th, 1999
At our last meeting on December 4, 1999 among other things she also said that the sanctuary at Zalog, the Church and the chapel in the rectory, is also the place of graces where the faithful may come to give thanks and seek help, not just now while I am serving in this parish but also afterwards.
" Faithful to the promise that I gave to you that I would not give you messages in this form anymore, I am now repeating the messages already given, which are also written.
I am warning you, that you have not completely fulfilled my wishes. Some have only read my messages and then have put them away, but have not began to live them.
Again I ask you: Live the Gospel and my messages, which are the expression of Divine Love.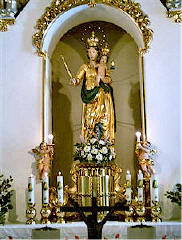 The Kurescek Church High Altar
Especially pay attention to the following:
This will be a place of graces, a place of healing from diseases and wounds of the soul. Whoever takes refuge with faith in my Heart and in the Heart of my Son at this place will be healed and share in the peace that only heaven can give. (February 10, 1990)
Remain faithful and pray, pray! I will be with you. Do not try to prove anything; I will prove. Learn from the messages I have given in Medjugorje. (February 10, 1990)
"Smaverski" (Father Smaverski) do not be afraid. Your trials will be great. Your pain will be your teacher. I am with you. I bless you.
Pray, pray much for priests, especially for those who are in distress and trials. The priests themselves shall take their refuge in me, but also in the person who I am going to indicate to you (she showed me Bishop Anton Vovk). We both shall implore the High Priest for all who will pray with confidence. (February 22, 1990)
Tell the priests, my sons, they should seek refuge in me with love.
My Heart accepts all priests: strong and weak, faithful and fallen. Gladly, I accept all those who thank me and all those who have recourse to me. My intercession and my blessing will be with all who are in distress, trial and danger, so that the satanic forces may not deceivingly lead them to infidelity in the priesthood.
All priests, my beloved sons, shall know my motherhood and the peace that I give. They shall also come to me on the first Saturdays to this place of peace. (March 1, 1990)
My Son and I wish that you announce reconciliation to all people. May all shrines dedicated to me become focal points of reconciliation and love.
May the month of May, 1991, become a month of reconciliation for all people. Take care that my wish is made known to all people. Do not be slow, time is precious. (In June the ten-day war broke out for the Independence of Slovenia) (May 5, 1990)
May your experience of reconciliation be transformed into a great fire of love. Bear witness to me through your deeds! (Thank you for such a short war and so few victims of war.) (May 26, 1991)
Do not worry about the difficulties, doubts and opposition of some. Neither winds nor storms shall carry you away. I, your Mother, am with you.
Do not forget reconciliation.
Take part in prayers for this reconciliation wherever and whenever the Church invites you to it; at the same time you too are to invite others and call them to reconciliation.
Carefully prepare meetings for reconciliation that shall take place at this site, in May 1991. (June 2, 1990) - Follow the messages that I give in Medjugorje. Also the messages I am giving here are for all men. (July 7, 1990)
Prepare yourselves spiritually for communion with the Hearts of Jesus and Mary. Do not wait to become many. (July 7, 1990)
The example of your patron, the holy Pastor of Ars, shall encourage you to lovingly seek refuge in him, so that he shall intercede for you to obtain those virtues for you through which he himself reached sanctity.
Love one another as Anton Vovk has loved his priests. Trust in me, do not let anyone mislead you! (August 4, 1990)
Priests, return to the original sources of Christianity! Follow the example of the first Christians, of the Apostles and of the later saintly men and women!
In the documents issued by the Church under the guidance of the Holy Spirit are the foundations of the spiritual renewal of the Church.
Many priests do not endeavor to know these encouraging documents because they prefer to swim in shallowness.
You do not only guide yourselves, you are leaders of the souls entrusted to you!
I will bless all your endeavors for spiritual deepening. (September 8, 1990)
Pray the Rosary often with love and discover the mysteries of this prayer. Each mystery is a source of living water. Pray not only with your lips, pray with the heart and with the soul.
Love one another.
Each one should contribute his share to the unity of the Church. Call on me, trust in me, and I will help you.
Be on guard against the roaring lion, that he not use you for dissension in the Church, in the family and in society. (October 6, 1990)
May the priests, religious brothers and religious sisters who feel the wind that blows from Our Hearts become the souls of the Family of the Hearts of Jesus and Mary. (February 2, 1991)
The visionary (Father Smaverski) walked with his companions the path from the chalet to the church.
On the right side he saw a church with the addition which was not clearly visible. Our Savior was holding the church with his extended hands above his head so that the bottom of the church was touching his head.
On each corner there was a Bishop standing. On the right (if you look from the path) was the image of F.I. Baraga, on the left A. M. Slomsek, on the left in the rear was the image of A. Vovk. The image on the right in the rear was not clearly visible (It was a Bishop).
Above all this (the church) was our Mother Mary. Among other things, she said to me that at this site there shall be built a new large church with space for the Society of Mary's and Jesus' Heart and other rooms.
Between the new and the old renovated church there shall be the stations of the cross with all stations; before the first station shall be the station of Jesus sweating blood suffering for our sins - The Agony in the Garden, the 15th station shall be the station of victory -The Resurrection.
The present stations of the cross are included.
All the site with the new church, the stations of the cross and the hill with the old church is a consecrated place of prayer.
The church shall be consecrated to the Holy Trinity, the chapel of the community to the Hearts of Mary and Jesus (September 7, 1991)
Praised be Jesus !
Today you are few in comparison with the great number of people who usually bring joy to my Heart and to the Heart of my Son.
The disobedience of the people of God towards their Creator has caused much disaster in history.
Ignorance towards the signs of the time is like the walking of a blind man in an unknown place.
Many did not recognize the signs, this is why the dragon has begun to spit the fire of evil.
Wake up, recognize at least now where your salvation is!
Take refuge through my Heart in the Son's Heart.
Renew the covenant with God's mercy.
Pray, fast, renounce and offer your pains and yourselves to God on the altar. Sacrifice and offer up your gifts for my intentions, so that my Heart and the Heart of my Son may begin to reign in the world.
Submit your desires to the Holy Will of God, so that you will not impede the coming of God's peace into your own hearts, into the hearts of individuals who are waging war with one another and into the nations who are waging war with one another.
My Heart still especially invites you priests, my beloved sons, to recognize the signs of the times.
Be the light of God unto the people, not darkness. Do not abandon prayer, otherwise you will not see the signs. Care for the purity of your thoughts and actions, of our souls and bodies.
Daily consecration will attract believers and unbelievers.
If you do not withdraw from my Heart you will feel my presence.
I am your Mother, therefore I will not abandon you. Cooperate with my Heart! (October 5, 1991)
Pray, so that you may become capable to understand the voice of the Gospel and that the world may see my hand reaching out to it.
My dear daughters and sons, today I have a special wish which you shall communicate to the world.
Protect the Holy Father John Paul II through prayer and fidelity.
Pray for the unfaithful Cardinals, the unfaithful Bishops and Priests who sow dissension, cause scandals and unfaithfulness to the Holy Father, the Church and to God.
John Paul II is my most beloved son.
Listen to him and there will be more peace, unity and blessing in the Church and in the world. (December 7, 1991)
Put into practice the Gospel and my messages, which are an expression of the Gospel. (January 4, 1992)
Mary, The Queen of Peace, had tears and was talking with a crying voice.
If humanity, all Christians and especially the Croatians would only recognize now what they have missed because they have not obeyed me.
I have been inviting them for ten years, warned and asked that they should pray for peace and endeavor for a life devoted to God.
The majority has not accepted me, the messenger of God, has not received my warnings or my invitation to consecration.
The consequences and trials are terrible.
Oh, if they would at least recognize me now, the Queen of Peace, and accept me as the Mother through whom God is speaking.
Threatening clouds are gathering around the South.
Slovenia is no longer threatened by war, but dangerous, spiritual darkness is sneaking in.
In a crafty way, it will try to penetrate into all pores of Christian life and work. Its main goal is to hurt Christianity and to overtake political power. From Slovenia the darkness will reach far.
Only one way remains to defend and protect yourselves:
convert
live in reconciliation
share peace
live according to the Gospel and the divine messages which you receive through me
pray, pray and fast
You can only rest in my Heart and in the Heart of my Son, there is no time for spiritual laziness and rest.
My blessing will accompany all those who love the Truth and live in obedience.
You, my son (Smaverski), I bless especially, for in great trials you will need my help. (February 8, 1992)
And you, Smaverski, await in prayer the suffering that lays ahead of you. You will not be alone, I will help you .(July 4, 1992)
My son, a great trial lies ahead of you. The cross will be heavy, but you will be able to bear it for I am with you. It will be so heavy that it will seem as if the whole world was crushing you, but all will brighten up again. (September 4, 1993) - Praise the Lord and be grateful to Him, for He has called you and revealed Himself to you.
Tell the people that on June 10, 1989, I promised you that you would become a priest. At that time there was no hope, yet you trusted in me.
My son, you have become my beloved priest. From now on you will only receive messages for others occasionally. You will be inspired to write and to say what you should.
You are to share this with the people. After some time, you and others will understand what I command you now.
This is the beginning of a new mission.
Be without worries.
Your task consists in prayer and to guard yourself against the temptation to pride and to not distance yourself from the divine will.
Be careful that you do not change or take anything away from God's inspirations.
More people still are going to seek help from you: but watch out, that you do not act self-sufficiently, in your name alone.
The Lord is your strength, wisdom and your knowledge. Offer up all Holy Masses and also yourself entirely. Be faithful to the vow that you gave, when you became a priest.
Be faithful and obedient to God, to the Church and the Bishop and through him to the Holy Father. This will be the source of your strength. (December 2, 1993)
Praised be Jesus!
I am the Queen of Peace.
I promise help, support and blessings to all of you, who have endeavored to live according to the Gospel and to the messages that I have given here during these last four years.
My sanctuary is renovated.
Also, many hearts, the sanctuaries of God Himself, have been renewed and have found peace here.
May all of you who have found peace and reconciliation with God and people become living witnesses of the encounter with me and my true work.
May you priest-confessors also become living witnesses, for the confessions at this place are a proof of true conversions.
I have promised you that this will be a place of graces for the healing of diseases and wounds of the soul for all those who take refuge in my Heart and in the Heart of my Son.
Only those who are spiritually near-sighted and blind do not recognize how God is working through me.
Do not worry about humiliating remarks.
There will be more and more living witnesses that I am here granting peace and healing the sick souls.
This is a place of graces, peace and reconciliation with God and the people.
Go on seeking to be my living witnesses.
Pray and take efforts to accelerate the growth of the possibilities for the construction of the church of the Most Holy Trinity, and that my voice will be heard in the whole world.
Do not prove the authenticity of my apparitions and messages.
I will speak myself to the hearts that are open for spiritual good. I ask the priests, my beloved sons, to accept my invitation and follow me. I do not call you to a faith, which is blind.
Open your hearts, so that I may enter them.
Be courageous, my son! You are not alone. I am with you and so are many faithful. Even when you will feel lonely, we will be with you. (February 10, 1994)
My Heart and the Heart of my Son are terribly offended; therefore I wish and ask and commission you to make reparation through prayer, fasting and the offering up of your sufferings for the grave offenses committed against my Heart and against the Heart of my Son.
Forgive always and accept injustice, pain and suffering with patience.
Learn to value pain and all kinds of suffering.
Only suffering accepted as something valuable can be offered up in atonement and for other purposes. Suffering that is not accepted as something valuable is a twofold suffering.
I know about opposition against me and against you who follow me and are obedient to my messages.
Do not be disturbed by those who do not seriously accept the Divine Grace God is sending through me. Some are even behaving in an insulting way. Be forgivingly patient. (April 29, 1994)
You are my joy, blossoms in the little wreath on my head. Remain faithful to me, do not allow trials to remove your trust, faith and love for God and for me.
The storms of trials for the Church, especially for the Church in Slovenia, have already shown their forces. In the unrest of today's wind the image of the pressure of the powers of darkness, still little known to you, shows itself.
Fidelity, prayer, fasting and vigilance are your defense. Let yourselves be guided by the Holy Spirit, who is your strength and help. I will be with you also.
Be strong. (April 4, 1992)
With special longing, I invite all religious orders and other spiritual communities to renew the faith and sanctity of the Church and to return to their original spirituality.
The communities shall be a living fire and light of the Gospel. Do not fear opposition.
The opposition against the communities who spiritually renew the Church is a sign of the personal spiritual crises and complacency of those opposing them. (May 2, 1992)
You, Smaverski, endeavor still more, pray even more, fast and offer up your pains with gratitude. Be a faithful disciple of my school. Beginning on the 5th of August, I will meet you during the whole month and teach you. Wait for me every day at 9 p.m. (July 25, 1992)
Praised be Jesus! I have invited you in order to reveal a great danger that is threatening you, the members of the Church.
Theological science destroys the belief of many.
In a lack of faith they spread a merely human theology; many therefore find themselves in a crisis of faith. This is especially bad, because this crisis affects some priests. The crisis of Faith is also the cause of the other errors.
Pray, my children, not to be poisoned by the erroneous theology that some consider to be a scientific theology.
Pray for theology professors, especially for the educators of future priests and the religious clergy and for all the Superiors in the Church that they develop a true theological science that strengthens faith and does not spiritually destroy others.
Some theologians in the Church develop a false philosophy; they want to interpret everything rationally.
They claim that no miraculous interventions of God exist, that no angels exist and no father of evil and no evil spirits.
This is a terrible error destroying true spirituality and giving Satan many a possibility for activity.
You priests shall care for a true spiritual current. Remain therefore faithful to the Gospel and to the teaching of the Church.
Avoid all spiritualities that do not conform to the Gospel, especially because they please people through their comfort. Redemption was paid at a costly price.
Let us confirm it therefore through a life lived according to the Gospel, through renunciation, prayer and fasting.
Priests, my beloved sons, do not divorce yourselves from your Bishops and Superiors. Be one with them as the Father and the Son are one. I will also bless fidelity to the Gospel and to the Church.
Pray that you may not undergo temptation; seduction is great and strong.
God is almighty.
I will be happy to help you. Stay with me and trust me. I am your mother.
Do not let those brothers alone who are under trial. You shall show them your love. Help them!
Publish these messages, for they are for the whole Church. My blessing will remain with all of you. (November 13, 1992)
Persevere in unity and endeavor for unity within the church. Be united to the priests and bishops.
Do not talk about the bad qualities of your priests and spread them. Even if one did not happen to be a good person, as a priest he is an administrator of divine graces.
Priests, my beloved sons!
Take care that you do not walk behind those sheep that expect stronger nourishment from you. Walk ahead of the sheepfold and listen to those who are hungry and thirsty for prayer and growth in the spirit.
Do not look at the majority resting content in spiritual superficiality; rather look to the small number of sheep, even one or two, who want to pray with you and expect help for growth in the spirit from you.
These two sheep are seeds and a blessing for the parish, they will not stay alone. (April 3, 1993)
I am the Mother of the Church, therefore be with me as living members, united to the body, whose head is my Son. Reject all that is growing apart from his body and fear it.
Only by allthemessages in complete unity with the Church are you assured of the right spiritual nourishment. The part separated from the body is doomed to death. (May 8, 1993)
Praised be Jesus !
I rejoice with you who are close to me that the voice is spreading throughout the world that the Holy Trinity is addressing to the world through me. My advice, my warnings and directions penetrate into the hearts of man very slowly.
But I am thankful to all of you who are a shining example.
Be vigilant and faithful, for you live in very serious times, but times even more serious are ahead of you.
Think about the content of my messages, live according to them and pass them on to others.
All of you, my daughters and sons, are collaborators in the proclamation of divine love and grace that the most Holy Trinity is sending through me.
This is not a new gospel! This is the help from heaven to help you live according to the Gospel and to protect you from the danger, which is threatening you.
God wishes that all people be saved.
Therefore, He speaks through me and pours out His special grace over humanity.
Priests, my beloved sons!
All of you who open yourselves to me and to the messages that the Lord is giving through me are my joy. But I am sad about those who close themselves to the documents written by the Church through the Holy Spirit.
Ignorance of the documents of the Church causes obstacles to the new spiritual wind, that wants to renew the Church and protect it from the currents of evil spirits and powers of darkness.
I have already made you aware of this. (July 3, 1993)
Remain vigilant and promote unity within the Church, with the priests, the Bishops and the Holy Father. Resist the increase of non-biblical and non-Christian religious ideas. The Bishops are the custodians of the true faith; you, my beloved sons, are to be their helpers. Hence, remain close to them. Unity with your Bishops is your wall of protection.
Pray, pray, and pray again that you may not deviate from the right path. The rosary is your weapon. Strengthen your prayer through fasting and repentance.
Those who do not accept me and who doubt the authenticity of my messages should not be like water on the fire! I am with you with the blessings that God is giving to you through me. (August 7, 1993)
Be brave! Do not succumb! Trust in me as till now, since you are my son (Smaverski). You and others that trust my messages given in Medjugorje and through you will need to endure even more difficult trials.
Accept the weight of unbelief, opposition and false accusations. I will take care so that the world will know that my calls and warnings are an outpouring of the Divine Love because God loves everybody and wants everybody to be redeemed.
This message is meant for your encouragement and all priests and all of you who hear me.
Especially I ask all religious, handicapped and others to pray for good spiritual perception so there will not be anyone that will not hear about this Divine love. (September 9, 1994)
My son Smaverski (Father France Spelic) will undergo a heavy trial. Support him with love and prayer. (February 10, 1995)
Son, you are not alone. I know your cross. I support you. Look at the cross, upon which the redemption of the world is hanging, and at the cross I carry during the events of Easter, and it will be easier for you. You are not yet on the cross of Good Friday, but prepare yourself for it. Do not be afraid, my hand is with you. (April 13, 1995)
You came back to the Heavenly Father, therefore He has bestowed gifts on you so that you have become a father to many, not just a brother.
Therefore say that I wish those, who accept you, to call you "Father" and not "Mister". Be a brother to all, even to those who reject you and speak ill of you. Do not grow tired of forgiving and being patient......(July 26, 1995)
You have waited two months for this day. You were tried, but your serious illness has not kept you from being happy.
One sign that I am with you is that you still did not know at 11 a.m. today whether the doctors would allow you to leave the hospital, but I wanted you to be at Kurescek precisely today, for I already invited you two months ago.
I arranged everything in such a way that you would be here on the day I wished. This shall be a testimony to all. (April 30, 1996)
I am God's messenger, and the Church is the guardian of my apparitions and messages, and only she can approve their authenticity. (November 6, 1997)
With great sadness I again instruct, to copy and publish to the whole world, what I instructed on December 7, 1991:
"My Heart is sad because there is so much hatred and lack of peace on the earth. Yet I rejoice that the number of my children who are faithful to me increases.
Pray, so that you may become capable to understand the voice of the Gospel and that the world may see my hand reaching out to it.
My dear daughters and sons, today I have a special wish which you shall communicate to the world. Protect the Holy Father John Paul II through prayer and fidelity.."
This message you did not take seriously enough, that is why I ask you to commit to this now and to be watchful, because you do not know from where the thief comes.
Do not be saddened, if people are talking ill of you. Happy is the one who is disgraced because of my Son and I, your Queen of Peace. (May 2, 1998)
Pray for reconciliation and peace among yourselves and among the nations. Be on guard against the demonic powers.
All you faithful, not only the Slovenians:
Pray that the Commission accelerate its work of examining the events at Kurescek and that the time for the construction of the Church of the Holy Trinity mature more quickly.
In your prayers do not forget unhappy mothers who are fighting in and with themselves, deciding over the life or death of the child they have conceived, so that life may conquer. You yourselves help these mothers in their suffering. (February 10, 1998)
I thank all those, who follow and wish to fulfill God's will, which is proclaimed in the Gospel and in the encouragement, which Love - God is giving to the Church through me. I thank you, priests, who like my sons live according to your vows and enjoy the service of Love and joyfully proclaim the Gospel.
Priests, pray for your brother priests, who are under trials. Love them and do not judge them.
All my children especially my beloved priests, be attentive of the dark forces, which penetrate the Church in many ways and are in the Church already, that they do not seduce you and make you their victims.
Priests, you are responsible for yourselves and the people, which are under your leadership. Stay faithful to your Church and its head - Christ, to the Pope, Bishops and to other representatives, that are faithful to the Gospel. (April 4, 1990)
Do not argue with those, who do not believe, that I your Mother and Queen of Peace am also coming into the Church through the visionaries.
The proving leave to me. The visionaries should try to go unnoticed and should not allow the faithful followers to have them as the center of attention. They should be hidden, faithful and be role models. Those visionaries, that are overtaken by greed for admiration are eliminating themselves from my chosen ones.
You all must try to fulfill God's main commandment - love. All those in need should be cared for with deeds of love, especially the weak, the lonely and people in distress.
Priests, be attentive to other priests, who are distressed and have become lonely for whatever reasons. Be exemplary leaders and educators of youth. (April 4, 1998).
No one can prevent you from witnessing what you have experienced, at the places of grace. We are live witnesses.
Do not be restless, because the Church does not publicly accept some visions and messages.
This process requires from the Church time and wisdom. This does not exclude witnessing; these have to be based on truth. Witness to the representatives of the Church and to the public. Everything should be given to the judgement of Church representatives.
All written testimonies should be sent to the care taker of my sanctuary at Kurescek. He will care so that the testimonies that have a truthful base will be published. (June 6, 1998)
Do not be afraid of those, who do not accept me, even those are my daughters and sons. My presence here and the authenticity of my messages is to be judged by the Church. I say to you again: Do not try to prove my presence here and the authenticity of my messages. All of this I will prove. You must quiet down so I may be heard.
To you, Smaverski, I am telling you to be hidden, and do not attract attention, stay humble and I will support you. If you are ever tested and you have doubts due to the weight of your cross, call and you will receive help. Of your personal cross do not talk about, but write your testimony for future generations. (June 6, 1998)
Unfortunately many still do not know about Kurescek the place of graces.
Especially among Slovenians and people from the surrounding area there are many who do not know anything about it. Many doubt and some have their hearts hardened.
I ask and instruct all: spread and study my messages, given by my son Smaverski (Father Smaverski).
All of you, my daughters and sons, are collaborators in the proclamation of divine love and grace that the most Holy Trinity is sending through me.
These messages have permanent value.
On 24th of September, I will give the last message from Kurescek and for Kurescek. Live and act in accordance with previous messages. From now on at Kurescek I will talk in the form of events.
Messages from Medjugorje and Kurescek are priceless. Do not have them forgotten on your shelves, live them. (September 5, 1998)
In my previous message I said that I would give you my last message today. It is the last one only in regards to the form in which I'm giving it to you. From now on I will not talk through the visionary, but in the form of events that you will experience.
All of you who will receive graces at Kurescek, the place of graces, record them and send the report to the rector of the Sanctuary at Kurescek.
Be live witnesses, from now on I will talk through you.
Representatives of the Church should decide if the testimonies can be published at once, or need to be further examined. Suitable testimonies are to be given at once to the whole Church and be published in religious media and translated to other languages.
I will continue to come to visionary Smaverski.
I'll teach him and he'll record my teachings.
He will not, however, tell the messages as he did up to now. He will use my teachings and messages when writing articles for the media, and when writing his diary which will be used at later times.
Do not be afraid I am not leaving Kurescek.
My presence here will be even stronger from now on. My great wish is that you pray and consecrate yourself so that the dark forces that are penetrating the Church and are already in, will not be able to overcome you.
Also the dark forces from outside the Church are fearlessly attacking it too, in order to take away its respect and power. God's promise is that the gates of hell will never prevail against it.
That is why you should not be afraid for the Church.
It is possible though, that there will be many human victims because many people let the dark forces fool them. /../
Kurescek is a place of graces too. The fountain of grace will become ever stronger. That is why a new large church consecrated to the Holy Trinity will be built there. No man can stop this from happening.
I am assuring you again that I am not leaving you. Keep coming to me here at Kurescek with faith and trust; you will recognize me in my works and signs. I am not leaving Smaverski either. /../
Do not forget God's main Commandment, the commandment of love toward all people, especially the powerless, lonely, hopeless and poor who count on the goodness of your hearts. (September 24, 1998)
She came at 6:45 PM. She came with a happy face.
After a short talk she said, that She will appear to me on Saturdays only till December81999. That will be our last meeting in a visible and audible way for me.
She promised, that She will still be with me, until we meet where She is. She instructed me to continue to wait for her every Saturday at 6:45pm till the end of my life, wherever I may be. That she will be with me at that time even though I will not be able to see or hear Her. She said:
You and others will feel my presence frequently.
Others will feel it more often than you will. With my interventions and miracles I will prove that I did not distance myself from you and the others.
Kurescek stays a place of grace forever.
I will leave a message for the whole Church at our last visible and audible meeting. This will not be a retraction of my previous words, that I will not be giving any literal messages through you any more.
Everything will be clear and evident from our last meeting. /../ Remain a faithful child of God and priest, and I will be with you for the rest of your life.
Be a true witness and encourage others to get to know all the messages that I have given through you for the whole world. Protect yourselves from all false prophets and visionaries. (Zalog, September 18, 1999) /..../
Again I warn you about the dark forces, that penetrate the Church and among other people: unfaithfulness, disobedience, the break away and abandonment from the Church are the fruits of these forces.
The penetration of influences of other religious and semi-religious ideologies are dangers to every person's soul.
Be on guard, satanism is at work!
Opposition and rebellion against the pope and his loyal Bishops, are the work of satanic forces and are against Jesus' petition to the Father: "Father let them be one, as I and You are One."
Bishops and priests guard the Church against forces that are not Divine! Come together with the faithful in prayer, so that you will be live members of the Body of the Church, therefore strong, faithful and healthy.
The Church can not be conquered but its individual members may become victims. I your Mother am with you - I am your helper.
Do not be afraid! Do not judge those who have fallen away. Help them with your prayers and by your example. I greet all faithful and zealous, so that they may continue to strive toward holiness.
Also, I greet the disloyal, wavering, and fallen away, so that they would return and strengthen their faith.
I bless all, especially the suffering and ask them to offer their suffering for spiritual health and strength for the threatened members of the Church. (August 5, 1997)
Father France Spelic
Put into practice the Gospel and my messages, which are an expression of the Gospel. (January 4, 1992)